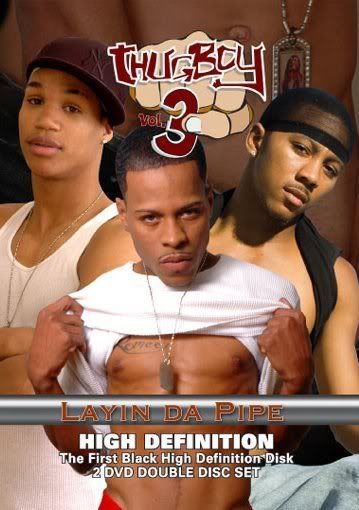 Well well well, what do we have here?
Thugboy V3: Layin Da Pipe
no less. No, it isn't a documentary on Channel 4 about vocation-challenged youths from the ends, press ganged by a government welfare-for-work initiative into replacing London's Victorian pipes. Silly you!

What we have here, students of the male anatomy, is in fact the latest release from our old favourite, FlavaWorks.

Here are some essential facts, without which your life will be bereft:
1. The cover features someone (far left-hand side) who looks like your best friend/boyfriend's irritating younger brother, but who nevertheless is very sexy.
2. The movie is apparently the first black gay porn in High-Definition. On the
Cocostore
site, they have added an exclamation mark, so that must mean its very exciting.

3. The Cocostore site also references Oz in their description, which is good, but they call it a prison soap, which is not good.

4. The bed our excitable boys use looks very nice, but the carpet and the other furniture really sucks, quite frankly.
5. One of the scenes features an old white guy. They let him loose with two black guys who are clearly in a similar age range. Someone clearly thought this was an All Worlds release, not Flava. I'm all for diversity - movies with an all white cast often throw a token black guy into the mix, so why shouldn't Flava? But couldn't they get someone decent?

That's all you're getting from me. If you want to know more, visit the Cocostore shop where you can look at the HD trailer. Have fun!