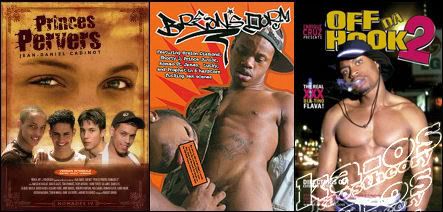 We all know about diversity and representation in television and movies - it's talked up often enough. Has this show got a gay character? Are the black characters in that show stereotypes?

What about porn? For many, it's a joke, disposable junk with no artistic merit. Usually that's true, but many studios, particularly the well-established ones, spend time and money on making films that can be appreciated on different levels (most notably France's Jean Daniel Cadinot).

However, in the face of these great strides (or strokes...), a disturbing trend has become established. That being, that the portrayal of non-white models (particularly black and Latino actors) is always in the capacity of The Thug.

We can probably blame hip-hop for this - as a cultural movement it has influenced, in some way, everything around us. This has filtered through to gay lifestyle, and porn. Two of the biggest success stories are Flava Works and Enrique Cruz, who have been producing quality black and Latino erotica for some years.

This is a good thing.

What isn't a good thing is the fact that The Thug is utterly omnipresent. The Thug stereotype isn't in itself a bad thing; most of us love a thug - it's sexy, as much so as a fireman, a soldier, a construction worker, or any other hyper-masculine fantasy you can think of, and both Flava and Enrique Cruz have made an art form out of realising that fantasy.

Watching a Cadinot feature recently, I was struck by how diverse the cast was: black, white, Asian, middle-eastern - in fact, almost any type of man you can think of. And everyone was on an equal footing, there was no sense of labelling - just attractive men having sex with one another, without any burden of "type". No big deal was made about anyone's race. It's a particular problem in American porn, where race is all about "the black thugs gangbang the white twink" or "the DL thug seduces his Latino bro" or "the white cop and the black guy." It's all pretty distasteful. I recently saw a clip of a new Bel Ami movie in which a white European muscle boy, and an African-American muscle man (with no "thug" pretensions) are rolling around having fun, with no reference to their race, in action or in words. Had this been an American feature, it would have been "take my big black ****" and "**** my tight white hole." Yawn.

Don't get me wrong. I like thugs. I like thugs in porn. But I'd also like to see some diversity. Why can't we see a movie where the models are portraying fantasies other than the thug dream? How about an all-black movie where the cast aren't playing thugs?

Perhaps the thirst for thugs is too strong - and that would be a shame…

(Picture, above: a racially diverse Jean Paul Cadinot feature, together with the usual thugged out offerings from Flava Works and Enrique Cruz).