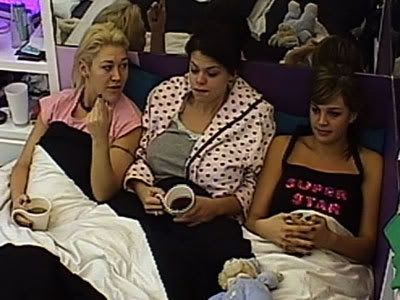 CHANNEL 4 HAS APPARENTLY received threats against the housemates involved in the racist bullying of Shilpa Shetty.
In addition, some 13000 complaints have been received, and Carphone Warehouse is reviewing its sponsorship of the show (but will it put principles before profit and actually pull out? I doubt it).
Police are now investigating after complaints about the racist behaviour being perpetrated by housemates and apparently condoned by
Big Brother
producers.
On Monday night, sewer-mouth footballer's accessory Danielle Lloyd said, "They eat with their hands in India, don't they - or is that China? You don't know where her hands have been." She and her merry band of white trash chums, which include the revolting Jade Goody and her mute boyfriend Jack Tweed, as well as Jo O'Meara (who has made an artform out of moaning and looking miserable), ridiculed Shetty's attempt's to cook a chicken - despite not lifting a finger to help themselves.
Last night, she was subjected to further attacks when she dumped the remains of a chicken soup into the toilet. When it became clogged up, Tweed finally opened his mouth - but only to instruct Shilpa to remove the bones in the loo with her teeth.
Some newspapers are claiming that an anti-bullying charity, which Goody supports, has dropped the Z-list "star".

With the furore intensifying, it will be interesting to see if Channel 4 actually steps in - if not to do the decent thing and eject the racists, then to protect its most valuble moneyspinner from real damage.