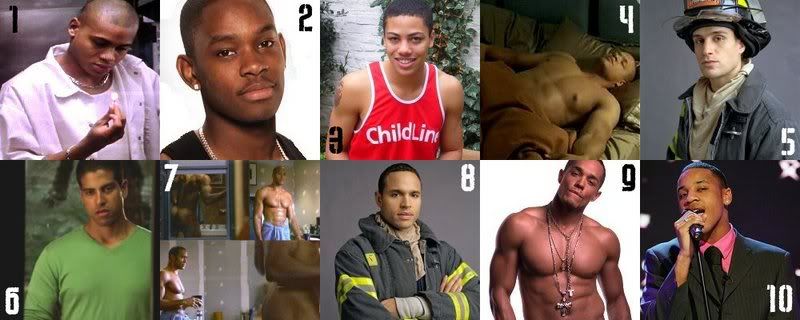 And now for something completely vacuous - just for the weekend. A recent bulletin on myspace on this subject plunged me deep into thought on this most serious of subjects. Just who are the sexiest men (and boys) on television right now? Here's my top ten dishes - but who are yours? The list is in alphabetical order (except for the J.D. Williams, who fully deserves the top spot) and comes complete with a token white boy. Enjoy.

01) JD Williams, The Wire ("Bodie")

J.D. Williams? Where do I start? He's racially ambiguous, so everyone's free to love him. He usually plays callous thugs, yet he has the face of an angel. Is it the lips? The eyes? Or that caramel-coloured, taut'n'toned physique we see tied down to a prison bed, naked, being caressed by Adewale Akinnuoye-Agbaje in an episode of Oz? Or do we just love a bad boy?

02) Aml Ameen, The Bill ("PC Lewis Hardy")

Aml Ameen might be better known for his role as Trife in Kidulthood. He's very, very, very cute - a lil luscious Londoner, in fact. If the London police uniform works for you, you'll be in heaven.

03) Luke Bailey, Casualty ("Sam Bateman")

In Casualty he played the hospital's bipolar receptionist. Anybody wanna look after him?

04) Gregory Keith, Noah's Arc ("Trey")

Like 'em big? They don't come much bigger than this strapping hunk of beefcake.

05) Mike Lombardi, Rescue Me ("Mike Silletti")

Rescue Me: there's so much testosterone sloshing about that you're in greater danger of drowning than being caught in a fire. In the show, this prime slice of Italian manhood is cute'n'dumb - a combination I'm partial to myself.

06) Adam Rodriguez, CSI Miami ("Eric Delko")

Lips. Lips. LIPS! Just imagine...

07) Henry Simmons, NYPD Blue ("Detective Baldwin")

Never before has a man so big, in every conceivable way, strutted across the screen. He's also staggeringly beautiful. Anyone catch THAT sex scene in NYPD Blue a few years ago? I did. I'm still recovering.

08) Daniel Sunjata, Rescue Me ("Franco")

Another big strapping New York fireman. Apparently Daniel Sunjata appeared in a play in which his character sexually assaults another man, a concept his hyper-masculine character on Rescue Me couldn't even comprehend. Which is a good thing. Obviously. Who saw the episode in Season One in which the crew bet upon who has the biggest appendage? Brings a tear to the eye...

09) Christian Vincent, Noah's Arc ("Ricky")

Well. Ricky. What can I say? You either want to be him, you want to do him, or you want to be done by him. Go on, admit it.

10) Reggie Yates, Doctor Who ("Leo Jones")

Yeah, the picture sucks (a good one's hard to find), but this yummy London lad, previously a youth TV presenter, is now starring in the current series of Doctor Who, playing the semi-regular brother of new girl Martha Jones. Needless to say, he's delicious and scrumptious. Someone recently pointed out to me that he also looks like one of my best friends, but I'd still do him. Reggie, I mean, not my mate. Probably. Is that wrong?